Men's Boots
US Size
Width
Brand
Category
Style
Type
Color
Boot Shaft
Material
Special Features
Price
Lifestyle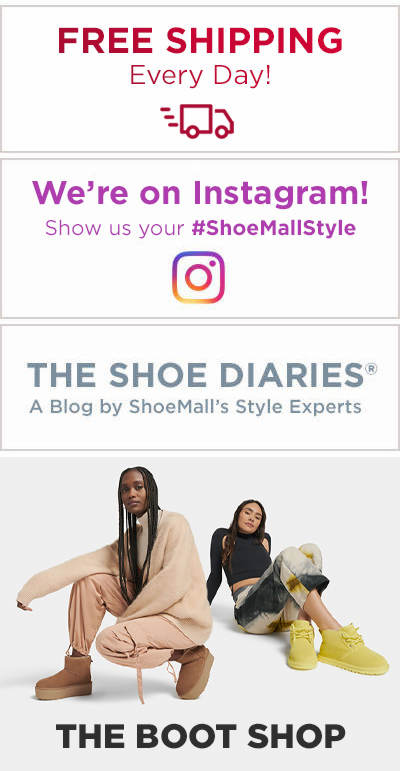 Men's Boots
(1,784 items)
Filter
(1,784 items)
Sort
Men's Boots
Every guy needs a high-quality pair of boots in his life, you can trust us on that. Men's boots are not only durable and long-lasting, there is a pair for every situation, whether it be a day of work or an evening out. If you're not sure where to start, we have you covered. Not only does ShoeMall carry a grand variety of boot styles and brands, we carry all widths and sizes, including extra wide men's boots! To get you started on your boot-finding journey here are a few common questions about men's boots answered.
Do Boots Look Good on Guys?
Absolutely they do, and if you disagree, you haven't found the right pair of boots yet! One thing that people don't realize about boots is just how many different styles are out there. If you live somewhere that gets cold in the winter, you might imagine a pair of men's boots being the bulky, super-insulated kind, and while those are great when trudging through several inches of snow, there are plenty more that are just as much fashion as they are function. Give men's leather lace up boots a try, high-quality leather can be dressed up or down to match almost any kind of outfit. If you're looking for something a little more sophisticated, a pair of suede men's boots might be more your style. You can match these with jeans for a casual look, or navy dress pants and a classic button-up shirt for something a little more formal. If it's the bulkiness of a snow or work boot that has you skeptical, try men's ankle boots. At ShoeMall, we have an extended list of sizes and widths, so you're bound to find something you like in a size that fits you perfectly.
What Are the Most Popular Boots Right Now for Men?
Dr. Martens men's boots have been in style for years, and they're not going anywhere anytime soon. There's something classically stylish about a pair of men's Dr. Martens boots, and what's even better is that the brand makes their styles with high-quality materials that will last as long as they stay on trend. Men's slip-on boots are also a popular style, especially if they feature twin gore panels on the sides. Also known as a men's Chelsea boot, it features a simple design that is easy to style with tons of different outfits, and the elastic gore on the sides makes getting them on and off a breeze. Combat boots are the most well known out of all Dr. Martens men's boot styles, but you can find their classic yellow stitching on everything from sneaker boots to platforms. Dr. Martens boots are also known for their high-quality construction, so you can trust them to last.
What Boots Are Truly Waterproof?
There's nothing more frustrating than finding out that your boots aren't actually waterproof at the worst possible moment. One thing to watch out for when shopping for men's waterproof boots is the phrase "water-resistant." Water-resistant boots are treated with a special coating to make sure that any water that gets on your nice leather boots doesn't ruin the material, it doesn't guarantee that your socks will be protected too. Men's duck boots tend to be waterproof and feature a rubber lower section to keep feet dry and protected from puddles on a rainy day or snow during the winter. Men's rubber boots, like rain boots, are also a great option when it comes for waterproof footwear. They might not be a great style choice if you are looking for something to keep you dry on the way to the office, but for working around the house or farm on a rainy day, you won't find anything better than a sturdy pair of rubber rain boots.
Are Leather Boots Worth It?
Leather boots for men often come with a steep price that makes you wonder if it's really worth the money, and we're here to tell you they absolutely are. What makes these boots so expensive is the high-quality leather and craftsmanship that is put into every pair of boots. You might have a high-quality pair of leather boots for men for decades, maybe even a lifetime if you take care of them properly. Taking care of your leather boots is as easy as cleaning them every once in a while with a leather cleaner and waterproofing them if you expect to be walking through a lot of snow and puddles.
Are Steel Toe Boots Better Than Aluminum Toe Boots?
When looking for a pair of work boots, you'll come across steel, aluminum and composite as options for toe protection, but which one should you choose? As long as they are safety-rated, all of these will work to keep your toes safe during a day at work, so the choice is up to your personal preferences and the type of environment you work in. Men's steel toe boots, while a classic, might not be a great choice if you work in cold conditions, since steel can hold the cold longer and will make your feet cold. They're also not a great option if you work around metal detectors. Aluminum toe work boots will also give you trouble around metal detectors, but they are lighter and often have a slimmer profile than steel or composite toe work boots. The composite toe options will generally be the lightest – up to 30% lighter than men's steel toe work boots – but, because the material needs to be thicker to provide enough protection, composite toe shoes might be bulkier. In terms of design, that's completely up to you. If steel toe cowboy boots for men are your style, we've got options for you! Are a simple pair of men's lace up work boots more your thing? Don't worry, we have options for you too.
ShoeMall Is Your One-Stop-Shop for Men's Boots
When it comes to work and fashion boots for men, ShoeMall offers a wide variety of styles ranging from men's shoe boots to men's Chukka boots and beyond! In addition, we carry sizes all the way up to men's size 18 and a wide variety of widths, making it easy for everyone to find a style that both they and their feet will love. With affordable prices and new styles being marked down all the time, it is easy to find something that will fit in your budget. Yes, you can find high quality men's boots under $100! Shop now to find your next favorite pair of men's boots!
See More
See Less
Popular Searches