Women's Shoes
US Size
Width
Brand
Category
Style
Type
Color
Heel Height
Boot Shaft
Material
Price
Lifestyle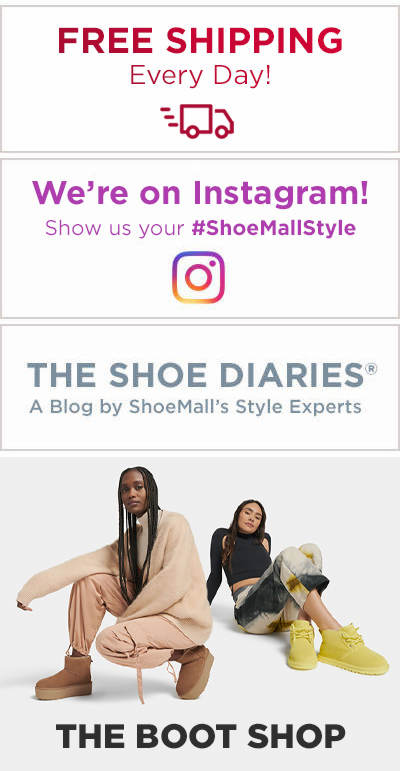 Women's Shoes
(9,085 items)
Filter
(9,085 items)
Sort
Women's Shoes
Though often overlooked, shoes are a key part of every outfit. They have a lot of power in tying a look together, making something look formal, or toning it down to make a casual weekend look. In addition to looking great, though, you want to make sure that your women's shoes keep your feet comfortable the whole time you are wearing them. Not sure which women's shoe is best for your busy life? Don't worry, ShoeMall has you covered! Here are a few tips on how to find the perfect shoe for you as well as a couple of common questions about shoes for women answered.
What is the Average Shoe Size for a Woman?
In the United States, the average size women's shoe size is between 8.5 and 9, which can be frustrating if you wear larger or smaller sizes. It can be tricky to find shoes for women in extended sizes, which is why ShoeMall is devoted to making sure we have styles in every size. Not only do we have sizes up to women's size 15, we also carry women's wide shoes, extra wide women's shoes, slim, and super slim shoes for women. We believe that everyone deserves to wear shoes in styles they love and that fit them perfectly, which is why we try our best to make shoe shopping at all sizes easy. You can easily sort our selection by size and width to find the right shoes for you without scrolling through pages and pages of shoes that won't fit first. If you aren't sure what size is right for you, make sure to check out the women's shoe size chart for the brand of shoe you're loving. You'll look even better if you feel great in shoes that fit!
What are the Most Comfortable Shoes for Women?
When it comes to the most comfortable women's shoes, It's all a matter of personal preference. Some women feel a lot more comfortable in a well-worn pair of sandals than they do extra-padded sneakers. If you're still trying to figure out what makes your feet comfiest, there are a couple of features you can look for that were built with all-day comfort in mind. One of these is Memory Foam, which a lot of comfortable women's shoes feature in the insole to create a footbed that molds to your foot. For a more active lifestyle, look for sneakers with breathable mesh uppers that keep your feet cool all day long. When shopping for a women's shoe, think about how often you will be wearing those shoes and what you will be wearing them for. If you are looking for something to wear while gardening in the mornings, women's waterproof shoes might be more comfortable than a mesh upper sneaker.
What are the Best Women's Shoes for Standing All Day?
For all-day wear, you want to make sure that you are wearing women shoes that support your feet the way you need them to. Everyone's feet are different, and everyone's feet need different things to stay comfortable when on the go all day long. When picking out shoes that you plan on wearing for hours at a time, the first thing to make sure you have right is the sizing. If you buy a style that is too tight, it doesn't matter if it's the world's most comfortable shoe, it's going to get uncomfortable after a few hours. We also recommend styles with adjustable features that you can change to get the best fit possible. This could include woman's shoes with laces that you can tighten and loosen, stretchy bungee cords, or adjustable straps. These will let you adjust the fit of your shoes during the day in addition to letting you add comfort orthotics or extra socks for extra cushioning.
What are the Best Women's Shoes for Arch Support?
It's hard to pick a single type of women shoes that are best for arch support because of just how many different types of arch support shoes there are to choose from! At ShoeMall, it's easy to find shoes with added arch support for any occasion, from dress shoes and slip-ons to sandals, boots, and more! Because your arches support your entire body weight while you're standing, and that they absorb shock when your foot hits the ground, it's important to make sure they have the support they need so that the rest of your body can work properly, and nothing gets hurt. Poor arch support can make it more likely that you roll an ankle, which is the last thing you want to happen when you're spending a whole day on your feet. At ShoeMall, we are happy to offer lots of different types of fashion women's shoes that are both incredibly supportive and stylish at the same time, making it easy to keep your feet happy while looking your best.
See More
See Less
Popular Searches