Women's Athletics + Sneakers
US Size
Width
Brand
Color
Category
Style
Type
Price
Special Features
Material
Lifestyle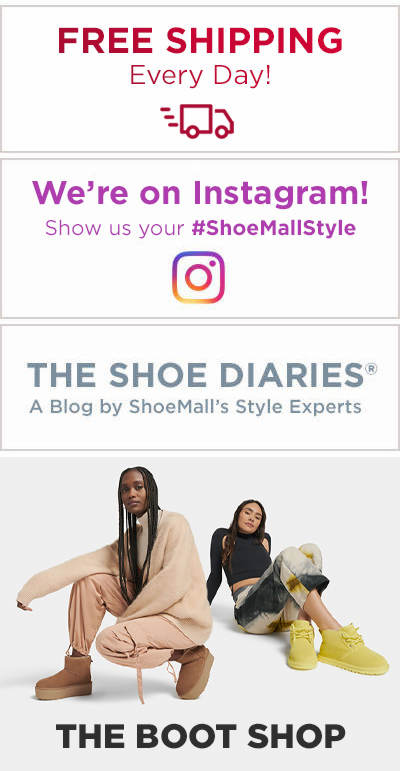 Women's Athletics & Sneakers
(928 items)
Filter
(928 items)
Sort
Women's Athletics & Sneakers
In order to perform at your best, you need best equipment on your side. Whether you're going for your daily run or are trying to beat your friends at basketball, you'll want high-quality women's sneakers to help you go the extra mile. At ShoeMall, it's easy to find the right women's athletic shoes for every athlete and every activity level at prices you'll love. Here are a few common questions about womens sneakers answered as well as some tips on how to find the best women's athletic shoes for you.
What's the Difference Between Athletic Shoes and Sneakers?
The main difference between womens athletic shoes and sneakers is that athletic shoes are designed to be worn while playing sports or doing athletic activities and sneakers are more casual everyday shoes. Athletic shoes for women are built to stand up to the quick movements and high-speed activity of your daily exercise routine or a game of tennis with your friends. They often offer more support than sneakers to keep you comfy and to prevent any injury that could come from a fast-paced sports game. Sneakers, on the other hand, are built for casual, everyday wear. They have a much simpler makeup than high-performance women's athletic sneakers, with a sturdy rubber outsole and a canvas, or leather upper. They tend not to have all the special features of women's tennis shoes, which can include shock-absorbing midsoles, lateral support, comfort footbeds, and non-scuffing soles, since it's more likely you'll wear your sneakers on a casual walk with your dog than to a high-intensity workout.
Which Brand has the Most Comfortable Sports Shoes?
A good way to determine which brand of women's sneakers will be best for you is to look at the different features and technologies put into each style. For example, many styles of Brooks women's athletic shoesfeature air-mesh uppers that let your foot breathe as well as BioMoGo DNA cushioning underfoot for a more comfortable stride. Other important features to looking for, depending on what you need from your shoes, include added arch support, Memory Foam footbeds, traction outsoles for grip on rugged terrains, and high-rebound midsoles. You can even find women's slip on athletic shoes if easy on and off is an important feature for you. At ShoeMall you can find popular brands like New Balance, HOKA, Skechers, Under Armour and more that each have different features perfect for different workouts and sports. You can easily sort our wide selection of women's athletic shoes by brand, size, width, style and more to find the most comfortable style for you.
What Makes Athletic Shoes More Comfortable?
Many women's athletic shoes feature a lot of cushioning to absorb impact while running and jumping, which makes them extremely comfortable for everyday wear as well! That's why you often seen them being worn as women's casual shoes. Even if you're just running to the grocery store, it's nice to have that extra cushioning underfoot. High-rebound features that help propel you forward when running or jogging are also great for keeping you moving on a day-to-day basis. Plus, in the case of leather athletic shoes for women, they're just plain stylish!
See More
See Less
Popular Searches