Women's Boots
US Size
Width
Brand
Boot Shaft
Category
Style
Type
Color
Heel Height
Material
Price
Special Features
Lifestyle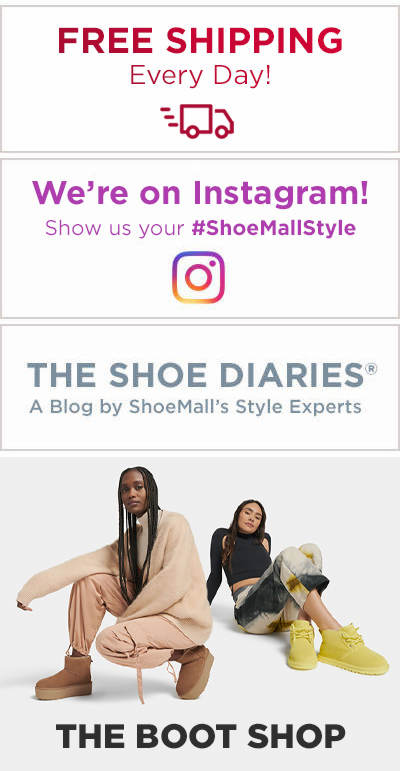 Women's Boots
(2,534 items)
Filter
(2,534 items)
Sort
Women's Boots
A good pair of women's boots can be worn all year long, dressed up and down, and can provide years of comfort for your feet. In other words, women's boots are a must have! From women's waterproof boots and women's insulated boots to stylish Chelsea boots and knee-high styles, there are tons of different ways to incorporate the style and reliability of women's boots into your everyday style. Here are a few tips and tricks on how to find the perfect pair for you as well as some common questions answered about women's boots.
What Womens Boots are in Style Now?
Though women's boots never really go out of style, there are a few looks that have found their way to the top of the women's boots fashion trend list recently. Combat boots are one of these that have seen a surge in popularity lately. These casual boots for women are super easy to dress up and down depending on the situation and tend to be durable and long-lasting – combat tough like the name suggests. They're also popular because of how comfortable they are. They usually have good fixation of the ankle join, which keeps legs from getting tired even after a long day on your feet. Shoe boots for women are also popular because of their sporty, sneaker-like style. Women's shoe boots tend to have a more casual feel to them but offer the same extra bump in height that you would get from most pairs of woman's boots. Put your own twist on these trends by checking out our wide variety of colorful womens boots and finding something that's perfectly, uniquely you!
What Boots are Good for Wide Feet?
We get it, shopping for shoes in extended sizes and widths can be frustrating. Sometimes the style you end up buying is the one the fits instead of the one you really wanted. That's why we work hard to offer a wide variety of sizes and widths here at ShoeMall; size shouldn't be a limit when it comes to personal style. When it comes to wide womens boots, we have over a thousand different styles to choose from, and we're adding new looks to our collection every day. You can easily sort our selection by both size and width in order to find the perfect pair without scrolling through pages and pages of styles that won't fit. You can also sort by style and feature, like women's steel toe boots, to make your shoe shopping even easier.
Do Jeans Go Over or Under Boots?
There are several different ways you can style your favorite jeans with womens boots, over top being just one of them. This look works best with bootcut jeans or straight-leg jeans with leg openings large enough to go over your boots without stretching out the fabric too much. You'll want to wear boots with a shorter shaft if you go this route; pulling your jeans over knee-high boots or rainboots will show the outline of the boots through the fabric. If you are more of a skinny jean or jeggings girl, you can also tuck your jeans into you women's casual boots – or womens dress boots for that matter – for a sleek, chic look. This is the way to go for knee-high boots, rainboots, and other longer shaft styles, as your pants will protect your legs from any rubbing against the boot and you'll be able to show off every detail of your stylish new boots. A third way you can style your jeans is by rolling up the cuffs so that the ends of your pant legs meet the top of the boot or sit just above. This is a trendy look that lets you dress up casual, comfortable jeans into something you can wear out on the town or to a coffee shop with friends. Just add a chic pair of dress boots for women and you're good to go!
Can You Wear Boots with Bare Legs?
On hot summer days, the last thing you want to do is put on another layer of clothes, even with your favorite pair of boots. Luckily, most styles of boots can be worn with or without leggings or tights underneath, making them perfect for those summer looks where sandals just don't work. We recommend wearing socks with your boots, but otherwise you can wear them with bare legs and shorts, skirts, dresses and so much more. There's no limit on the number of outfits you can build around a good pair of women's leather boots or a chic set of women's suede boots. If you have an outfit in mind, you can easily sort boots by style, color and more at ShoeMall. Not only that, you can sort by price to make sure that you are only looking at womans boots that fit in your budget. We know that shoe shopping can be stressful, which is why we've included so many features to help you find the boots of your dreams quickly and easily.
What Kinds of Boots Look Good with Dresses?
One thing you should consider when pairing women's boots with a dress is the length. You want your boot style to complement the length of the dress. If you're planning on wearing a shorter dress, give knee-high or over-the-knee boots a try. For something with a longer length, like a maxi dress, we recommend a shorter style, like a Chelsea or combat boot. In colder months, you can add a pair of leggings or tights under your dress and boots to make sure you stay warm. No need to pack away your summer dresses when the leaves start to fall; just add a sweater and a pair of leggings and your look is ready for autumn! You can also swap your regular boots for women's fur boots or women's fuzzy boots that are designed to keep you warm and comfortable when out and about on a cold day.
See More
See Less
Popular Searches