US Size
Width
Brand
Boot Shaft
Category
Style
Type
Color
Heel Height
Occasion
Material
Price
Special Features
Lifestyle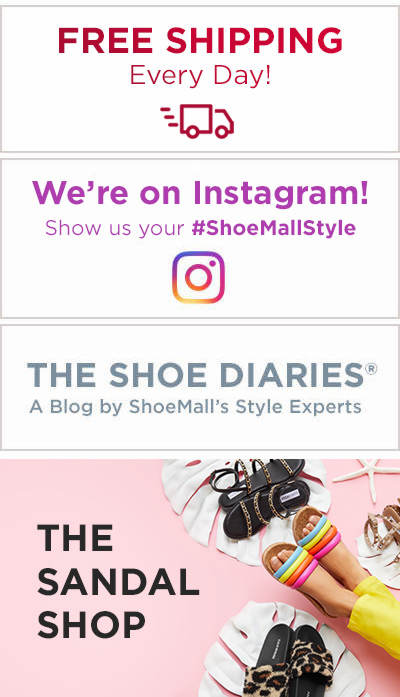 Women's Ankle Boots
(1,533 items)
Filter
(1,533 items)
Sort
Women's Ankle Boots & Booties
Casual style, dress-up potential and all-day comfort all in one shoe? It's got to be an ankle boot! Women's ankle boots have been a fashion staple for years thanks to their ability to go with just about everything, and that trend isn't going anywhere anytime soon. Ready to add this chic style to your wardrobe? Here are a few tips and tricks on how to style a new pair of ankle booties for women as well as a few questions you might have answered.
Are Ankle Boots and Booties the Same?
Though a lot of people use women's ankle boots and bootie interchangeably, there is a difference between these two popular boot styles. Booties tend to be shorter and end right at your ankle. Womens fashion ankle boots, however, reach one to four inches above your ankle. Examples of ankle boot styles include Chelsea boots, combat boots, and some work boots. Because people use both terms, it doesn't hurt to search both of them when looking for a pair of short boots. On ShoeMall, you can sort by boot shaft height to make sure you find what you're looking for.
Are Ankle Boots in Style?
With so many different ways to style womens casual ankle boots, it's hard to imagine a time when they won't be in style! There are so many different styles to choose from, you'll be sure to find something that fits your personal aesthetic for a look that's perfectly, uniquely you. They're not just for fashion either, women's walking ankle boots look just as good out on the trail as they do on the boardwalk on vacation or main street on a shopping trip with friends. It's a great multi-purpose style for people who like to keep a simple, uncluttered closet, but also comes with enough variety for the avid shoe collector.
Can You Wear Ankle Boots with Jeans?
You absolutely can wear ankle boots with your favorite pair of jeans. Depending on the style of jean you prefer, you can either tuck the legs into your ladies casual ankle boots, pull them over top, or roll up the ends for a stylish cropped look. Another great look to pair with your jeans is a casual ankle shoe, which has a similar construction to your women's ankle booties but with a sportier, sneaker-like feel. Ankle shoes for women often feature the extra heel height of womens heeled ankle boots, too, which is a fun bonus. You can style these just like you do any of your other favorite sneaker styles, making them a must have in every shoe collection.
Do Ankle Boots Look Good with Dresses?
Not only do ankle boots look great in a casual setting, you can also easily dress them up for a night out on the town, a fall wedding, and so much more. Women's dress ankle boots go perfectly with dresses of all styles and lengths, and they're comfortable enough to keep you on your feet all day long. If you aren't sure where to start when picking a pair for your next event, let us suggest womens leather ankle boots. A dark leather like black or brown is super easy to style with a wide variety of outfits, formal or casual. If you're looking for something a bit more sophisticated, give suede ankle boots a try. You won't have to worry about these styles cluttering up your closet, you'll be wearing them again and again and again!
How Do You Style Ankle Boots?
One of the great things about ankle boots is that you can fit them in to just about any style, and with ShoeMall's wide selection of sizes and widths, finding a pair that fits you perfectly is simple and stress free. You can easily sort our hundreds of ankle boot options by price, brand, size, and width, which makes finding the slim ankle boots or womens wide ankle boots of your dreams a breeze. You can also sort by color and style if you are shopping with a specific outfit or look in mind. If you don't have anything in mind when you hit the ankle boot scene, take some time to peruse our selection and check out all of the different styles we have to choose from. Whether it womens ankle harness boots, slip on ankle boots, or womens ankle slippers, you are sure to find something new and unique to love.
Where Can You Get Ankle Boots on Sale?
No need to wait for a womens ankle boots sale to come around; ShoeMall's clearance section is changing all the time and often includes ankle boot styles. In addition to these markdowns, you can save even more by joining our email list. We'll send our sales and deals straight to your inbox, making sure that you never miss a chance to save. We also like to show off our newest arrivals in our emails as well as our favorite brands and styles that customers adore.
See More
See Less
Popular Searches