US Size
Width
Brand
Color
Category
Style
Heel Height
Material
Price
Lifestyle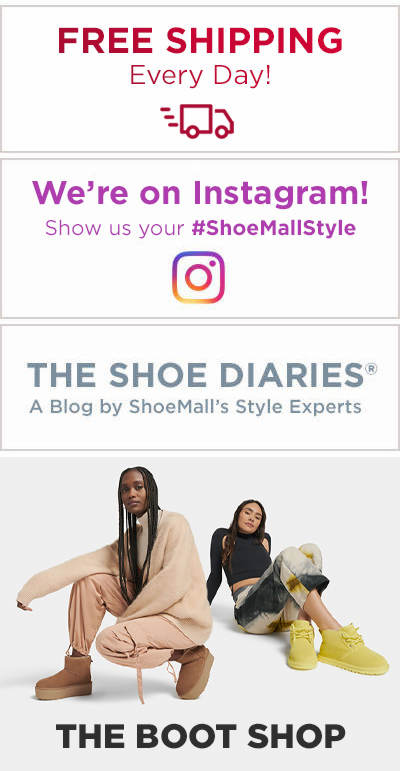 Women's Clogs + Mules
(508 items)
Filter
(508 items)
Sort
Women's Clogs + Mules
Mules and clogs have become fashion favorites for a reason. Though they come in tons of different shapes, styles, and designs, most clogs and mules are incredibly comfy, making them perfect for everyday wear. Whether you prefer a casual clog for round the house or stylish womens leather mules for a night out with friends, you can be sure to find exactly what you're looking for at ShoeMall. Here are a few common questions about womens clogs and mules answered, as well as how you can find the best pair of womens clogs and mules for you!
What is the Difference Between Mules and Clogs?
A lot of people use the terms "mule" and "clog" interchangeably, but there is a small difference between these two styles. Modern clogs for women started off as wooden shoes that the working class of Scandinavia wore because they provided comfort and support for long days at work. Mules, on the other hand, started off as high heeled shoes typically worn by Roman senators. To this day, the heel height is the main difference between these two styles. Womens clog shoes tend to have shorter heels in a platform or wedge style, while womens mules look more like shorter high heels. These days both mules and clogs for women come in both formal and casual styles, making them a great way to style a comfortable shoe into just about any outfit.
Are Clogs Closed-Toe Shoes?
Though most clogs for women are closed toe, there are a few styles that break this rule. Just like with sandals, you can find clog mules in both closed and open toe varieties, and at ShoeMall.com, it's easier than ever to find exactly the style you want. Not only can you sort our entire selection by size, width, color, brand, and more, you can even sort by specific details like open-toed or closed-toe styles. If you know you need womens black clogs and mules to complete your outfit, why spend hours scrolling through styles that don't fit? Finding the perfect pair is fun and easy at ShoeMall.com!
Are Clogs Good for Your Feet?
Historically, clogs have been known for being comfortable and supportive throughout long workdays; it's what makes them popular in all sorts of workplaces from restaurants to health clinics. As clog shoes for women have evolved over the years, so has comfort technology, and now the two can be combined to create the most comfortable clogs to date! Many companies have their very own technologies designed to make their shoes as comfortable as possible. Birkenstock clogs feature footbeds unique to Birkenstock that mold to your foot to create support exactly where you need it. Clarks clogs also feature an ultimate comfort footbed that will help you stay on your feet for longer. For a firm footbed that provides extra arch support, give Dansko women clogs shoes a try. With so many different technologies and designs available, you're sure to find something that fits your personal comfort level!
See More
See Less
Popular Searches