US Size
Width
Color
Heel Height
Category
Style
Type
Brand
Occasion
Price
Boot Shaft
Material
Lifestyle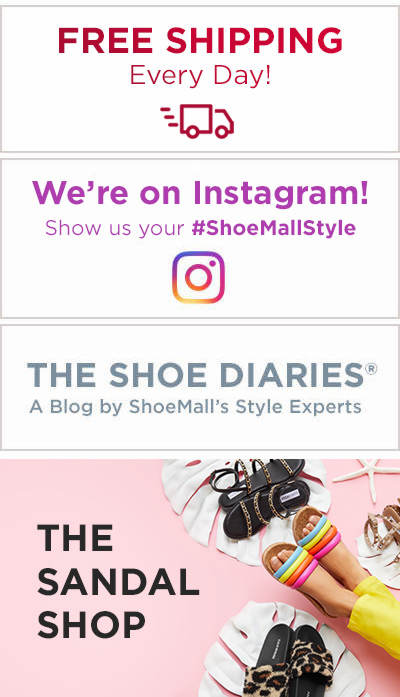 Women's Dress Shoes
(1,281 items)
Filter
(1,281 items)
Sort
Women's Dress Shoes
Every woman needs a good pair of dress shoes…or five! No two cocktail parties or weddings are the same, which means you need lots of options when it comes to your footwear. Luckily, ShoeMall is here to help find cute dress shoes to go with every occasion. Here are a few tips on picking out the best dress shoes for women as well as some tricks on how to create new formal looks you'll love!
Which Shoe is Best for Formal Dress?
There are a couple of factors you need to take into account when picking the best ladies dress shoes for a formal occasion. First, what's the event? If it's an outdoor wedding, you might want to skip the stiletto heels in favor of flats or dress boots that will be easier to wear on grass or gravel surfaces. For beach weddings, dress sandals for women are a must. If the party is staying indoors, feel free to get creative with your women's evening shoes. Second, how long are you going to be in these shoes? Comfort is just as important as style, if not more! You don't want to wear womens formal shoes with super high heels if you're planning to be on your feet all day, nor do you want to be wearing anything that is too tight or loose. Consider taking your women dress shoes for a test run before the event to make sure the fit is right before wearing them to a cocktail party. Finally, how formal is the event? For dressier events, go for womens leather dress shoes over other more casual styles. Kitten heel dress shoes are a great all-around dress shoe if you're not sure of the dress code. It's just enough of a heel to give a more formal vibe while also being great womens casual dress shoes.
What to Wear if You Can't Wear Heels
High heels aren't for everyone, and that's perfectly fine! There are tons of formal women's flats (https://www.shoemall.com/womens/shoes/flats/_/N-15h2a6f ) that are just as dressy as a sharp pair of heels while also being comfortable enough to keep you on your feet all day. For even more comfort, look for Memory Foam women's dress shoes or styles with contoured insoles that mold to your foot for a custom fit. Another great alternative to high heels is dress boots for women. This is a good way to keep the bit of height that women's dress pumps provide while still being extremely comfortable and stable. Women's platform dress shoes are another great way to get the height of other women's dress shoes with a larger base that's kinder on the ankles than most pumps.
How to Match Dress Shoes to Your Outfit
Womens evening shoes are a great way to get creative with your look and add a touch of your own personal style to any outfit. When picking out shoes for an event, take your entire outfit into account, accessories, jewelry and purse included. If you plan on wearing earrings with sparkle, try a style with shimmer or rhinestone details. If your look features solid colors, pick out a fun pattern. Working with mostly neutrals? Get bold with a bright statement shoe! At ShoeMall it's simple to sort our entire collection of women dress shoes by exactly what you're looking for to find the perfect footwear for any occasion. You can even sort by extended sizes and widths to see all our wide dress shoes for women as well as narrow styles and much more!
See More
See Less
Popular Searches