US Size
Width
Brand
Color
Category
Style
Type
Price
Heel Height
Material
Lifestyle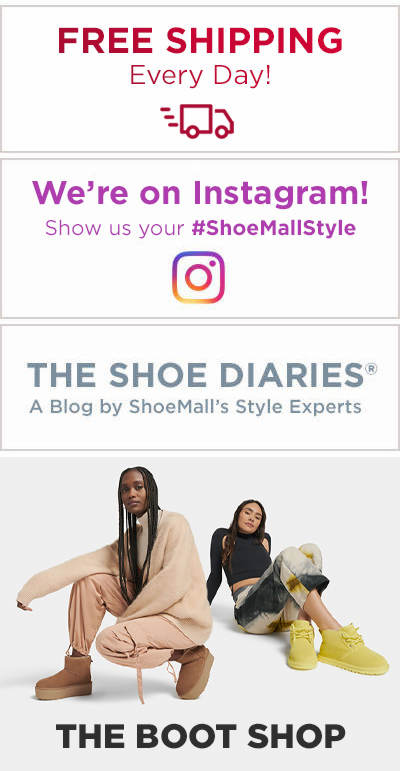 Women's Flats
(180 items)
Filter
(180 items)
Sort
Women's Flats
A good, comfortable pair of flats for women are a must have in every wardrobe. Not only do they make great dress shoes that are comfortable enough for an entire day on your feet, but they can also be dressed down for casual wear around the house on weekends. They're a fashion staple for a reason, and, here at ShoeMall, you're sure to find a pair that fits your personal style perfectly. Here are a few common questions about womens flats shoes answered as well as how to style your favorite pair of ballet flats.
What are the Best Flats to Wear?
The best womens flat for you will depend a lot on the occasion and style you're going for. For a more formal affair, like a dinner party or work event, we recommend a classy pointed-toe flat. To add an extra touch of personal flair to your look, try womens flat dress shoes with ornamental details or fun patterns. Womens ballet flats can also make great formal shoes in addition to being a solid everyday style. You can easily dress up a ballet flat with a skirt or throw them on with jeans and a t-shirt for a quick outing with friends on the weekend. A good pair of womens black flat shoes is a must-have in every wardrobe because they can be worn with just about anything! Need something for a summer event? Try a chic pair of womens flat sandals that show off your latest pedicure. At ShoeMall it's super easy to find womens flats shoes for any occasion. You can sort our selection by size, width, style, color, brand and more to find just what you're looking for, or to discover something brand new that you'll love just as much!
Are Ballet Flats Still in Style?
Womens ballet flats are a fashion staple that never go out of style. They're the ultimate all-purpose shoe, being perfect for both the casual weekend outing and formal events. Ballet flats are also well-loved because of how comfortable they are. Because they usually feature low heels, or no heel at all, they can be worn all day long without wearing out your ankles. They also come in a wide variety of shapes and styles, making them easy to incorporate into just about any outfit. If you're new to the ballet flat trend, try starting off with a pair in a neutral color, such as white, black, or brown flats, that you can easily style into chic casual or formal looks. If you're looking to add a bright pop of color to your outfit, try a women's red flat shoes to make a fashion statement. Get creative with all the different styles of womens flat casual shoes and flat dress shoes, you never know when you'll discover your next favorite outfit!
See More
See Less
Popular Searches