US Size
Width
Brand
Category
Style
Type
Color
Heel Height
Price
Material
Lifestyle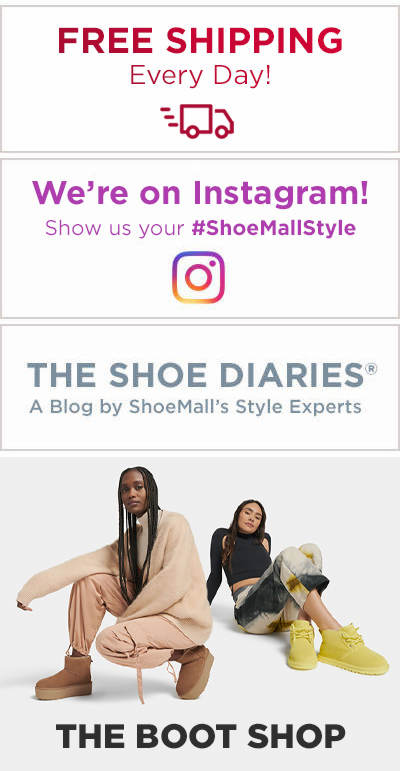 Women's Sandals
(2,420 items)
Filter
(2,420 items)
Sort
Women's Sandals
When warm weather rolls around, let your toes have some fun in the sun too! From womens dress sandals to casual slides perfect for the beach, ShoeMall has your sandal needs covered. Our wide variety of widths and extended sizes makes it super simple to find women's wide width sandals as well as chic flip flops, slides, flats and more to fit every size. Here are a few tips on how to pick out your next favorite pair of women's sandals as well as some things to look out for when shopping for walking sandals.
Which Types of Sandals are Trending?
Womens sandals never go out of style, but what's popular and trending within the wider world of sandals for women does change from year to year. This year, comfy is king! Womens casual sandals featuring puffy, pillowy uppers are one of this summer's big trends, along with styles with extra-cushioned footbeds and midsoles. Another popular style is platform sandals. Often called "flatforms," this style of womens casual sandals is great for adding a couple of inches to your height while also keeping a solid, stable base under your feet. A lot of platforms come in a slide sandal design, making them a great slip on style whenever you need to run a quick errand. They're convenient, comfy, and look incredible! If you're in need of trendy dress sandals, look no farther than women's gladiator sandals! This strappy style, especially ones with chic leg ties, are big this summer, and for good reason. These stylish women's leather sandals are great for every occasion and go with just about any summer outfit. Pair them with your favorite maxi dress for the ultimate comfy-chic summer look.
What are the Best Sandals for Walking?
When picking out women's comfort sandals for walking, there are a couple of different things to look for. First, arch support. It's important to make sure that your feet have enough support when walking long distances or they'll quickly get sore. When shopping at ShoeMall, you can search specifically for styles with this feature, making it easy to find the best arch support women's sandals for you. Cushioning is also important to keeping feet comfortable when walking. Look for styles with Memory Foam insoles or footbeds that can mold to your foot for comfort that's customized specifically for you. Your feet will thank you!
What's the Difference Between Heel Types for Sandals?
Just like with any other style of shoe, sandals come in a wide variety of different heel heights, making it easy to find the perfect fit for you. Not every occasion calls for sky-high stiletto heels, but if you do want to rock a couple extra inches at your next event, ShoeMall makes it easy to find the right height. You can easily sort our entire collection of sandals by heel height to find what you're looking for. Feel more comfortable in a pair of flat sandals? No problem! We have lots of low-profile styles, including women's slide sandals, flip-flops and more, to choose from. If you like the idea of extra height but are nervous about the stability of a high-heeled style, give wedges or a block heel sandal a try. These provide a greater surface area for a more stable base that's easier on your ankles while also giving you that extra boost.
See More
See Less
Popular Searches