US Size
Width
Brand
Category
Style
Type
Color
Heel Height
Boot Shaft
Material
Price
Lifestyle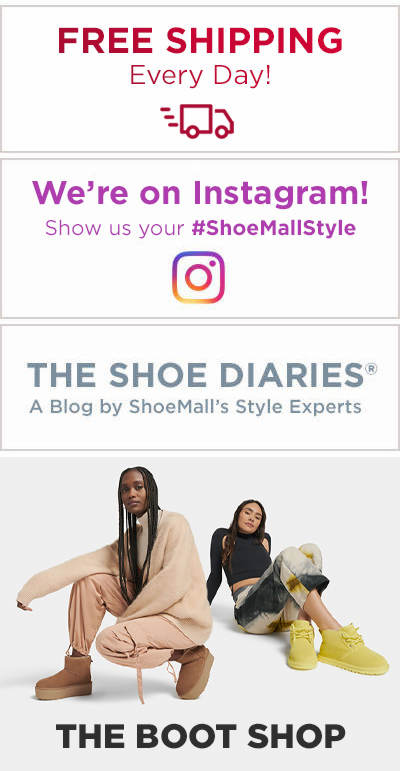 Women's Walking Shoes
(125 items)
Filter
(125 items)
Sort
Women's Walking Shoes
When you're on your feet all day long, it's important that you have the right shoes for the job. At ShoeMall, we have a wide selection of women's walking sneakers, slip-ons and more that can keep up with your active life. From chic black walking shoes to rugged, waterproof walking sneakers, you're sure to find something to love in our collection. Here are a few common questions about women's walking shoes answered, as well as some tips on how to find the perfect pair for you.
What are the Best Women's Shoes for Walking?
When picking out the best pair of walking sneakers for women, there are a couple of things to keep in mind. First, cushioning. Extra padding is essential in walking sneakers if you are on your feet all day long. Look for styles of women's walking sneakers that feature Memory Foam or padded comfort footbeds. These will give your feet the support and cushioning they need to stay comfortable even on long walks and full days spent on your feet. For even more comfort, look for ladies walking shoes that feature extra midsole cushioning as well. Another good feature to look for is rebound or energy return in the midsole. This takes some of the energy you put into each step and uses it to propel you forward so that walking feels easy and effortless. Second, what kind of support do your feet need? Many styles of comfortable walking shoes include added arch support to keep your feet in a healthy shape while you walk. If you have flatter feet, consider investing in a pair of womens walking shoes with arch support that help your feet stay in their natural shape. The final thing to consider is where you plan on wearing your new walking shoes. If you plan on taking hikes through the woods, or you like to walk outdoors on a daily basis, womens waterproof walking shoes are for you. If you wear your walking shoes to work or to do errands around town, a stylish pair of women's leather walking shoes might be more your style. Luckily, at ShoeMall, it's easy to find the perfect pair for any lifestyle.
What is the Difference Between Sneakers and Walking Shoes?
The main difference between walking shoes for women and sneakers is that walking shoes are designed with activity in mind, while sneakers are made for casual everyday wear. Women's walking shoes often include some of the same special features as running shoes in order to keep your feet feeling comfortable and to prevent injury on long-distance walks. These include extra cushioning in the footbed, high-rebound midsoles, added ankle support, shock absorption and traction outsoles. Because they are made to be comfortable, a lot of sneakers do include a lot of cushioning that make them good walking shoes, but they might now perform quite as well on long distance walks or when exercising, where features like energy return midsoles can be a huge game changer.
How Long Should Walking Shoes Last?
The lifespan of womens walking shoes depends a lot on how often you use them. A good rule of thumb for is to replace your running or walking shoes every 500 miles, which can be every six months to a year depending on how much you walk. If you aren't sure about your mileage, take a look at the inside of your current women's walking shoes. Lots of wear and worn down footbeds are a good sign that it's time for a replacement. Good cushioning is key in shoes for walking, so you don't want to keep wearing a pair that's worn all the way down to the soles. Making sure you have the right size for your foot is also a big factor in the life of your walking shoes. At ShoeMall we carry walking shoes in extended sizes and widths, making it easy to find womens wide walking shoes, as well as narrow sizes. Not only can you sort our selection by size and width, you can also sort by brand, lifestyle, heel height, color and more to find the perfect New Balance womens walking shoes or white walking shoes that you've been dreaming about.
See More
See Less
Popular Searches